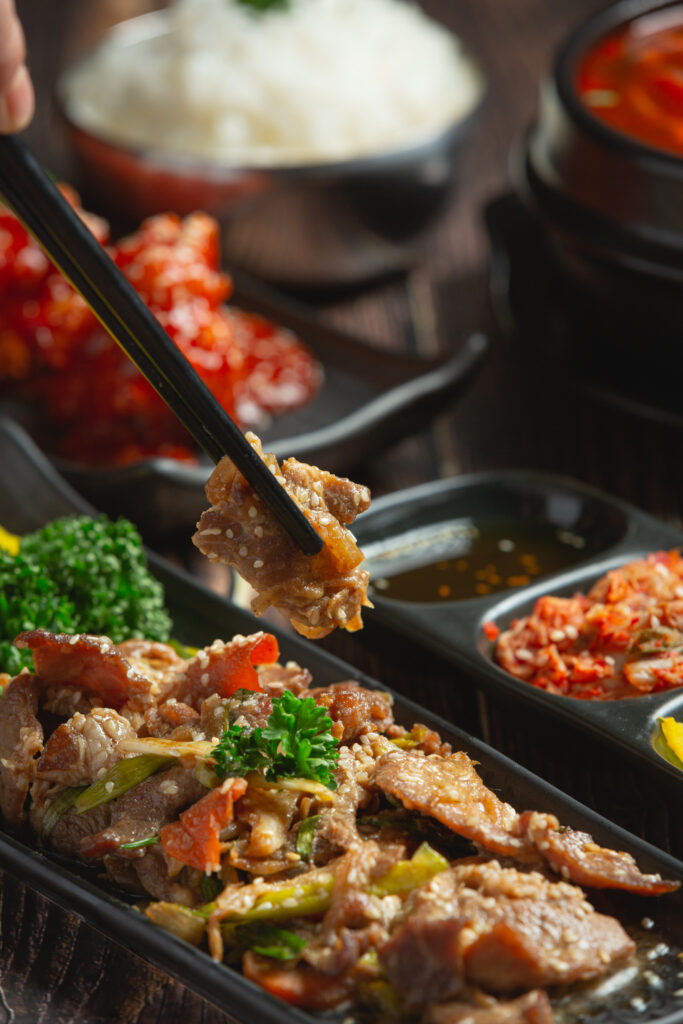 All you can eat Korean BBQ has become a beloved dining experience, offering a tantalizing array of grilled meats, flavorful side dishes, and communal dining. If you're a fan of Korean cuisine or simply enjoy a delicious BBQ feast, you're in for a treat! In this article, we'll explore some of the best places in the United States to indulge in all you can eat Korean BBQ. And propose an equally exciting experience, we'll introduce you to Froodini – the ultimate app for organizing food events (BBQ included!).
BBQ in Los Angeles, California:
Known as the Korean BBQ capital of the United States, Los Angeles boasts numerous exceptional all you can eat Korean BBQ restaurants. Koreatown, in particular, is a haven for BBQ enthusiasts, offering a wide range of options to satisfy your cravings. Popular destinations include Genwa Korean BBQ, Park's BBQ, and Soot Bull Jeep, where you can enjoy high-quality meats, banchan (side dishes), and an authentic dining experience.
BBQ in New York City, New York:
In the heart of the Big Apple, you'll find a vibrant Korean community with exceptional all you can eat Korean BBQ establishments. Head to Manhattan's Koreatown, centered around 32nd Street, to discover hidden gems like Kang Ho Dong Baekjeong, Jongro BBQ, and Picnic Garden. These places offer a diverse selection of marinated meats, fresh vegetables, and traditional Korean flavors that will transport your taste buds to Seoul.
BBQ in San Francisco, California:
San Francisco is home to a thriving food scene, and all you can eat Korean BBQ is no exception. Venture to the city's Richmond District or the South Bay area to find renowned Korean BBQ spots like Han Il Kwan Korean BBQ, 99 Chicken, and Gogi Time. These establishments offer a wide range of meat options, including premium cuts like galbi (marinated short ribs), bulgogi (marinated beef), and samgyupsal (pork belly).
BBQ in Chicago, Illinois:
Chicago's diverse culinary landscape extends to all you can eat Korean BBQ. The city boasts a range of fantastic options, including San Soo Gab San, and Gogi. These eateries provide an immersive Korean BBQ experience with tabletop grills, succulent meats, and an extensive selection of side dishes. Prepare for a feast of flavors and a warm Midwestern welcome.
BBQ in Atlanta, Georgia:
Head to Atlanta to discover a vibrant Korean food scene and all you can eat Korean BBQ options that will satisfy your cravings. Restaurants like Iron Age Korean Steak House, 9292 Korean BBQ, and Char Korean Bar & Grill offer a mouthwatering selection of meats, along with an array of banchan and traditional Korean flavors. Experience the fusion of southern hospitality and Korean BBQ goodness.
BBQ in Houston, Texas:
As a culinary melting pot, Houston embraces diverse cuisines, including fantastic all you can eat Korean BBQ. Restaurants like Korea Garden, Omi Korean Grill & Bar, and Seoul Garden Korean BBQ offer an immersive dining experience with premium cuts of meat, delicious side dishes, and attentive service. Houston's Korean BBQ scene is a true feast for the senses.
Why settle for dining out at a BBQ restaurant when you can host a memorable BBQ event at home with Froodini? Simplify your gathering, personalize your invites, and let participants effortlessly coordinate food and beverages. With Froodini, event planning becomes stress-free, allowing you to focus on creating unforgettable moments with your friends and family. Download Froodini today or use our web app to experience the power of seamless event organization at your fingertips. Let Froodini help you host the perfect BBQ event and make lasting memories in the comfort of your own home, with no fee included!